SWIMMING WITH DOLPHINS – YOUR CHANCE OF A LIFETIME.
Swimming and having direct contact with a dolphin is not something you will come across numerous times in your lifetime. Under the guidance of professional trainers you will be able to interact and see the natural behavior of these beautiful and intelligent marine mammals. This is a special programme and is open for adults of all ages and children from 8 to 12 years. Besides the swimmer, you can also book family members or friends as spectators who can watch the swimmer enjoying this special moment with the dolphins during the swim programme. Spectators can also take their own photos from the guest stand or make use of the professional photographer (at an extra fee payable on site) who will be available during the swim programme. Book your swim with dolphins now to secure availability during your visit to Malta.
The swim with dolphins programme lasts approximately 30 minutes and will include an educational documentary and personalised treatment by the professional trainers. Wetsuits are provided to guests in LOW Seasons whilst an adjustable life jacket is provided in MID & HIGH Seasons. All guests must be good swimmers and  are kindly requested to bring their own swimwear and towels.

Important Information
① Infants 0-3 years are allowed free entrance, however they will not be allowed to swim with dolphins.
② Maximum Group size is of 10-12 persons.
③ Adults (Over Age 13).
④ Children (Age 8 – 12). Children under the Age of 8 will not be allowed to swim with dolphins.
⑤ Advance bookings are compulsory. For bookings please fill in our Online Booking Form
⑥ Guests currently enjoy a Free Day Block Ticket for All Shows if they purchase a Swim with Dolphins or Spectator Ticket.
⑦ Transport is available from all Hotels in Malta including the return back to the hotel.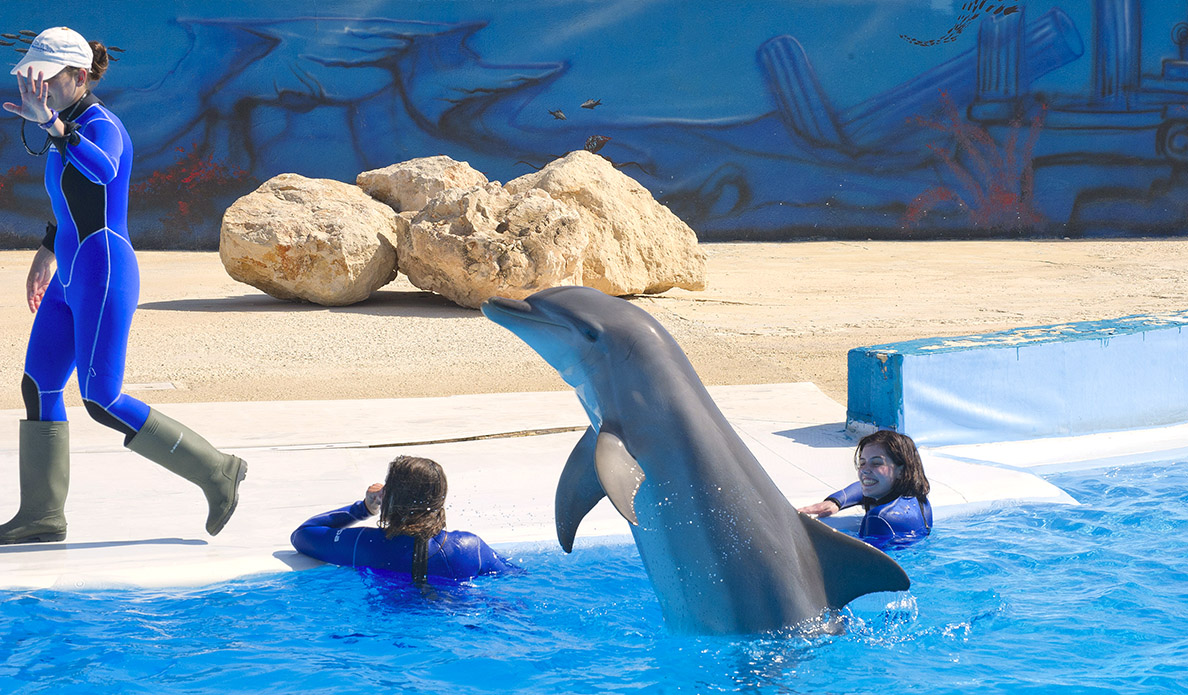 Other Important Information
① Bookings must be made at least 3 FULL DAYS IN ADVANCE.
② If you require TRANSPORT please tick the appropriate check box in the BOOKING FORM.
③ Transport available ONLY from HOTELS, if you are staying in an apartment, guesthouse or hostel contact Us before booking.
④ Transport must be booked in the same booking of the Swim With Dolphins.
⑤ Note that due to logistical reasons it will not be possible to add transport after your booking has been made.
⑥ If you are arriving to Malta on a CRUISE LINER, please contact Us BEFORE you proceed to booking online.
⑦ Guests will not be allowed in the pool with any accessories such as earrings, piercings, bracelets, hair bands, make-up, etc.
⑧ Pregnant women cannot participate in the Swim With Dolphins programme.
⑨ Please let us know whether you have any HEALTH ISSUES before booking your Swim with Dolphins programme.
⑩ Children under the age of 12, participating in the Swim programme must present a copy of an official document at the Park entrance which indicates their age. Failure to produce an acceptable document will result in the child not being allowed to participate.
⑪ For more information visit our FAQ section and read the Swim With Dolphins Disclaimer.
Swim Times
① There are 3 or more swims per day (mornings & afternoons) depending on the number of persons booked on a particular day.
② The actual swim time is subject to confirmation by us, as each swim is limited to a maximum group size of 10-12 persons.
③ A Swim With Dolphins Ticket entitles the ticket holder to only 1 swim.